Patrick Alan Miller, Ph.D., FASLA, FCELA — Professor of Landscape Architecture based in Blacksburg, Virginia and Nye , Montana
Roundabout - 13th Street & Tazewell Avenue
Principle Investigator: Dr. Patrick A. Miller, FASLA, FCELA
Post Doc Researcher: Suhardi Maulan
Graduate Research Assistant: Hooman Koligi
For

Virginia Department of Transportation
Purpose of the Project: This project provided information to local community members assisting them in evaluating the use of roundabouts in a proposed transportation enhancement project in their community.
While common in other countries, "roundabouts" are still a relatively uncommon means of dealing with vehicular traffic circulation at intersections in the United States. When appropriately used, roundabouts offer many safety and traffic flow benefits. In addition, roundabouts can also contribute to a neighborhood's identity, calm traffic and provide pedestrian scale amenities in the form of landscape elements and art. However, there are many misconceptions regarding the use of roundabouts. They are often confused with traffic circles. This project provided background research on the traffic flow and safety of roundabouts, undertook case studies of existing roundabouts, utilized motion video of roundabout traffic flow and prepared illustrative design alternatives.
Furthermore, the project utilized principles from "context sensitive design" (CSD), also called "context sensitive solutions." CSD, a movement in transportation planning, is "a collaborative, interdisciplinary approach that involves all stakeholders to develop a transportation facility that fits its physical setting and preserves scenic, aesthetic, historic and environmental resources, while maintaining safety and mobility" (Federal Highway Administration). This project was one of the first applications of context sensitive design in this region of Virginia.
The study demonstrated how roundabouts can be used to create a pedestrian scale, green landscape along the proposed road that would enhance the character of an existing working class neighborhood and provide a greater sense of identity for this community.
Project's Significance: The project introduced a relatively new transportation element, the roundabout, in a region of Virginia where they were not common. Further, the project introduced "context sensitive design" to a region of Virginia where it had not previously been applied and demonstrated the role that landscape architects can play in applying "context sensitive design" (CSD) principles in transportation projects that integrate road enhancement projects and community revitalization. Using case study research, the project identified precedents for the use of roundabouts to improve the pedestrian scale and character of a community, and to enhance community identity. The project serves as an example of the use of roundabouts and CSD for other landscape architects.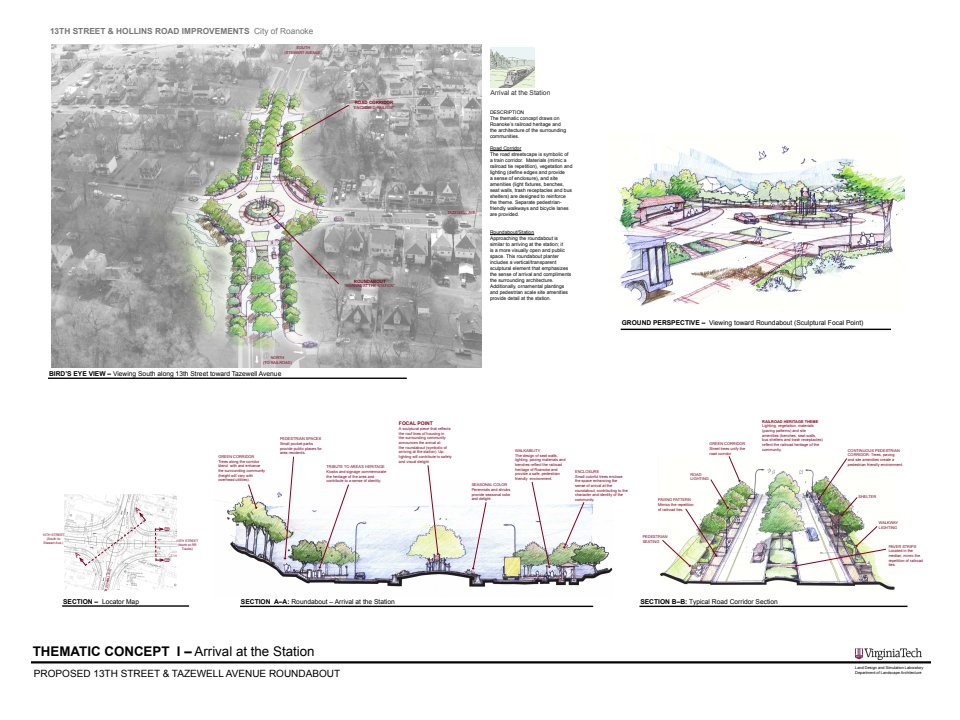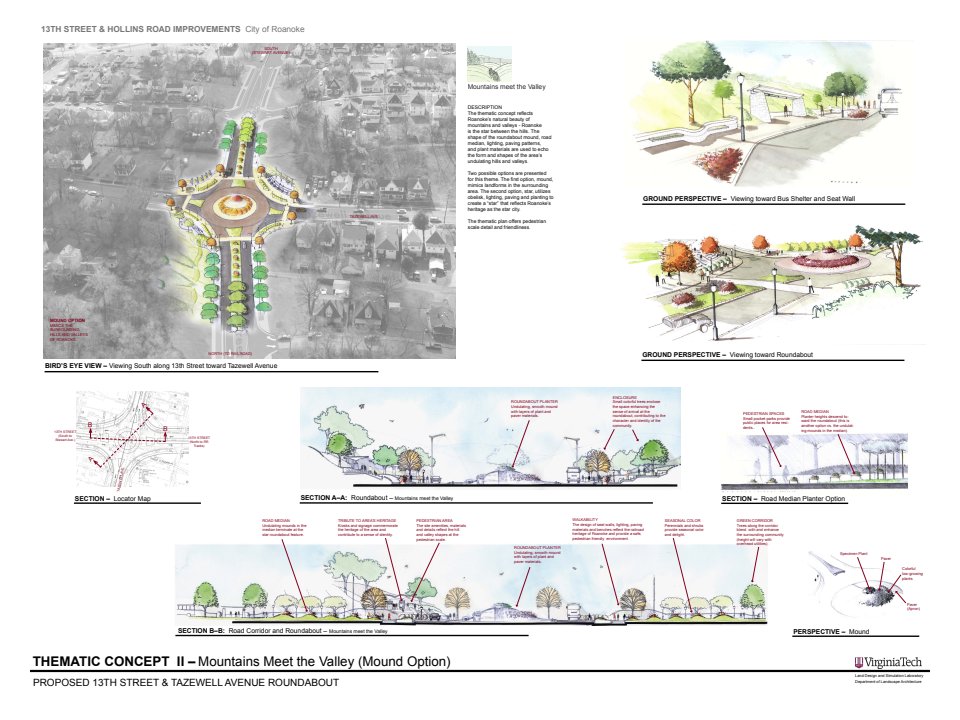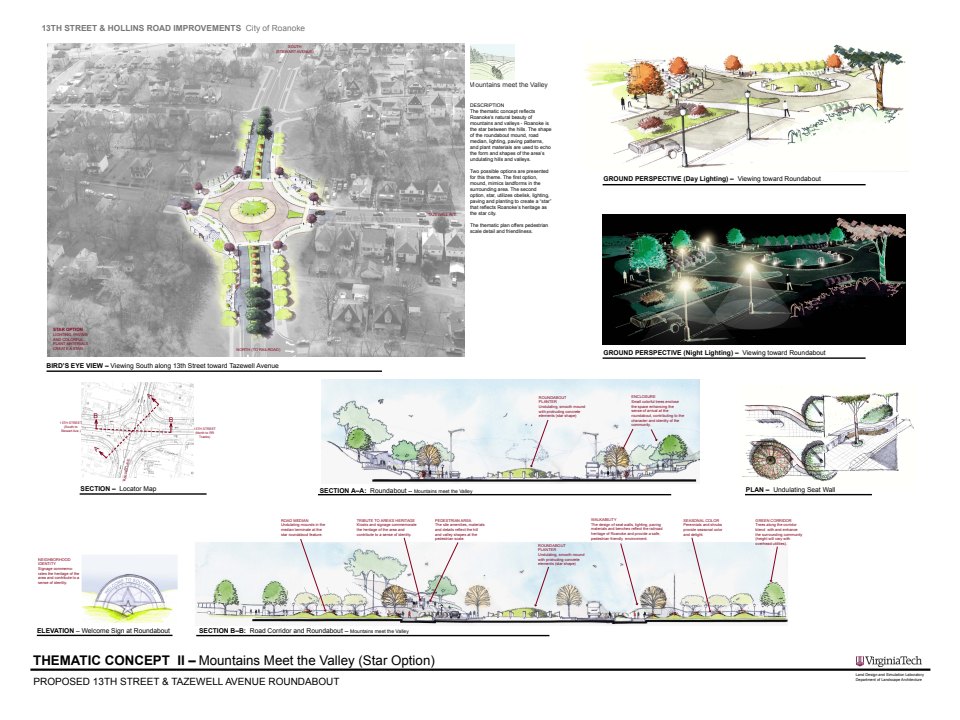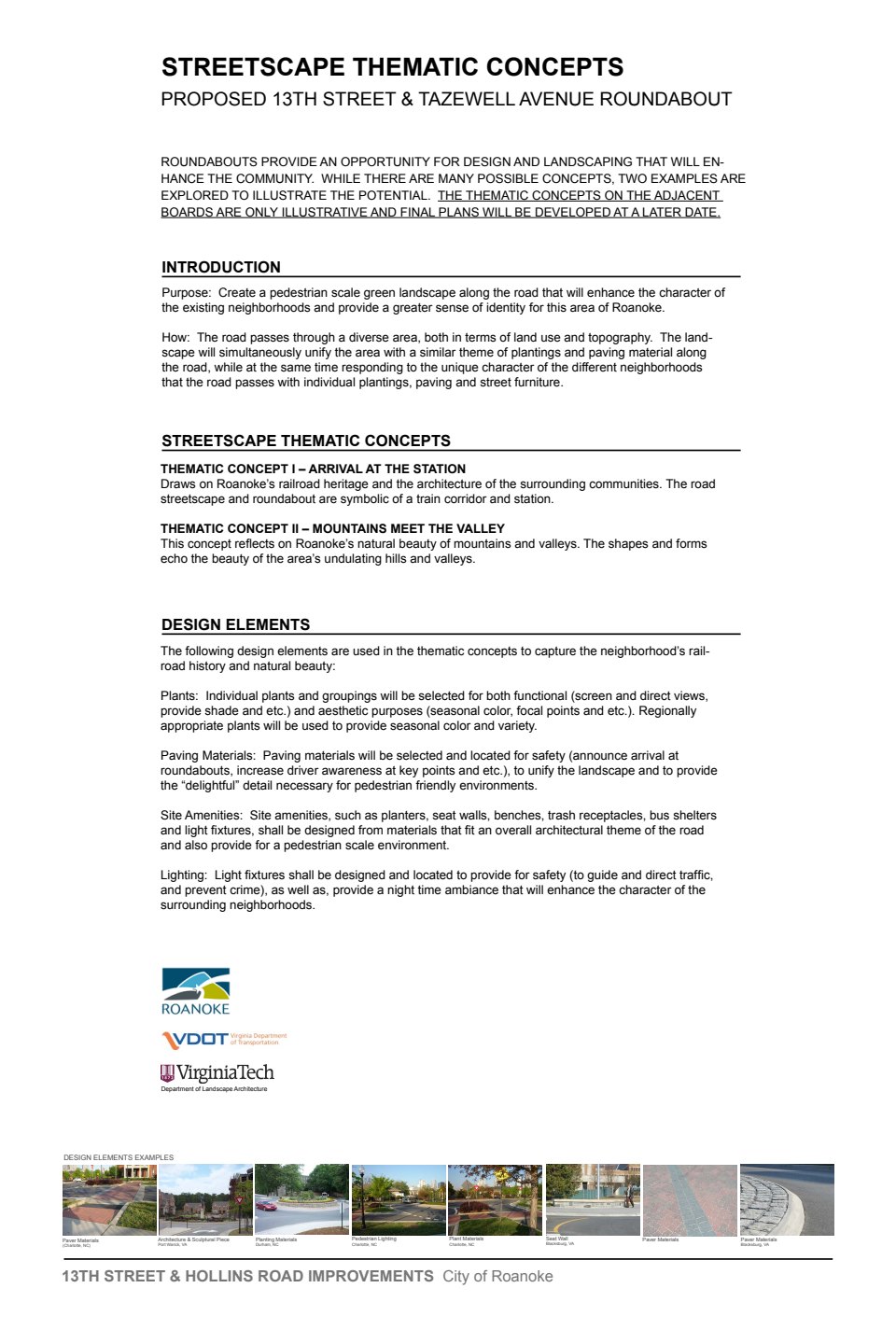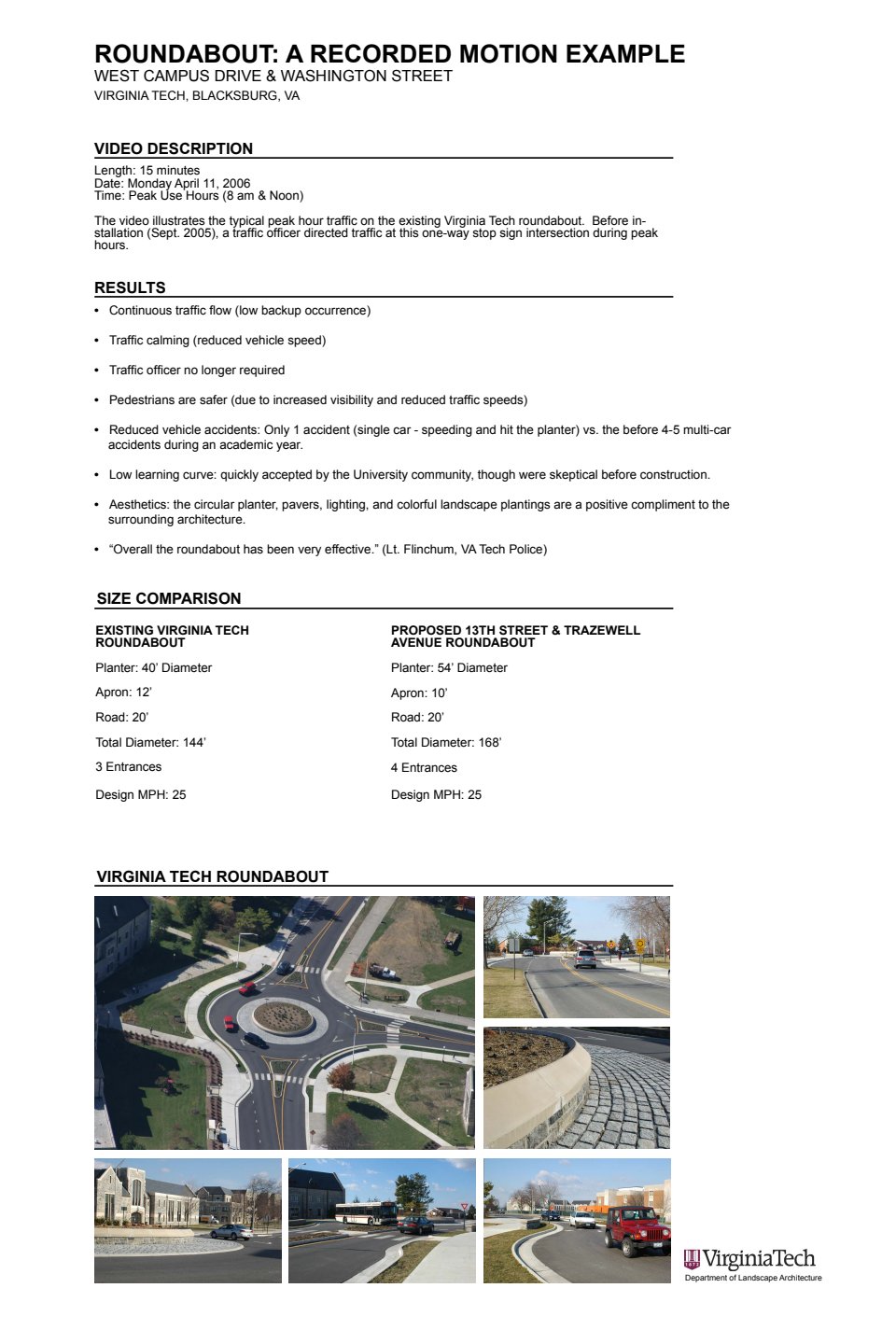 Previous
Context Sensitive Design
Next
Viewshed Study: Booker T. Washington National Monument